| | |
| --- | --- |
| | Vehicle Nuisance and Offences - Hedge End Retail Park 14/01/22 |
---
Good Evening Resident
Please 'rate' this message using the button at the bottom (very quick and simple)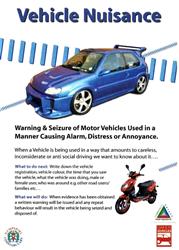 Last night we had multiple reports of vehicle ASB relating to a 'car meet' in the car park of Marks and Spencer Hedge End.
Multiple residents reported multiple cars racing and speeding on the roads around the retail park in Hedge End, cars doing 'donuts' in the car park and cars wheel spinning, causing significant concerns for the safety of other drivers in the area at the time and the safety of members of the public.
We totally accept that some car owners spend alot of time and money on their cars and are very proud of them and like to show them off. However, street racing, speeding, damage to the road surface, noise and dangerous driving and causing alarm, distress and intimidating other road users and members of the public is not acceptable.
NPT and R&P police officers attended and engaged with several drivers and the organiser. There were 40/50 cars gathered in the Marks and Spencer car park. The vast majority of the 'meet' was civilised, however a minority chose to behave in the above manner.
A £100 FPN was issued to one driver for an illegal number plate – after which the group dispersed the area.
I am aware of similar issues currently being targeted by @TottonPolice whereby they have used Section 34 dispersal orders. We will consider using these powers should this behaviour continue.
We will not tolerate this behaviour and will use every tool at our disposal to disrupt those involved. If you have any concerns or information on any criminal activity taking place, please contact us on 101, or 999 in an emergency.
PCSO 12948 Mica Woodcock.
---
Reply to this message
---
Message Sent By
Mica Woodcock
(Police, PCSO, Eastleigh District / Hedge End Sector / West End )
---